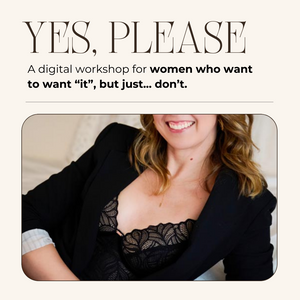 LINGER Boutique, LLC
YES, PLEASE Digital Workshop
Regular price
$99.00
$0.00
Unit price
per
IT'S YOUR TURN TO THRIVE!
If you desire more physical connection, intimacy, and pleasure, but never quite feel like you're in the mood, this workshop is for you.
Many women experience what's call Responsive Desire, meaning their desire for sex and physical intimacy takes time. The often frustrating thing is, because they rarely feel like they're in the mood for pleasure, they often find themselves turning away from their partner's invitations, saying yes out of obligation, or avoiding sex and all together, meaning they miss out on so many opportunities to feel good, draw closer to the one they love, and invest in their wellness. 
But, what if we told you Responsive Desire could be your ticket and pathway - rather than the barrier - to a richer sex life, free from anxiety, pressure, and stress?
What if by leaning into how your mind and body work you could tap into your unique power of desire, so you and your partner can create and cultivate the delicious intimate experiences you both deserve?
YES, PLEASE is all about thriving with Responsive Desire. It's about helping you say YES to more of what you love: deep intimacy, meaningful connections with your partner, and lots of toe-curling pleasure. It's about working with your mind and body, not against it. It's about embracing how you are uniquely wired without feeling guilty, shamed, or broken.
In this workshop you'll gain confidence and understanding by:
Gaining awareness of the key differences between Spontaneous and Responsive Desire, and how this might be showing up in your relationship.
Identifying and honoring what you want AND what you really don't want.
Ways to work with your mind and body from a place of love and gentleness. 
Connecting with yourself and your partner on a deeper level.
Your workshop package includes:
A 90-minute digital workshop

 

delivered to your inbox so you can watch it from the comfort of your own home and on your own schedule. We're going to help you feel unstuck and totally empowered to embrace your own flavor of sexuality and desire so you'll want to keep coming back for more.
Downloadable

 

journal prompts

 

to help you integrate and personalize the information into your own life. All things sex and intimacy are nuanced, these questions will help you process the content and apply that which serves you and your relationship the most.
A downloadable

 

Partner Guide

 

on Responsive Desire to share with your partner. The purpose of the guide is to help guide meaningful conversations around your desire types to deepen mutual understanding and draw closer together. This is what we call intimacy.
A

 

$25 Gift Card

 

to Linger Boutique! Yes. So many of the tips and strategies we'll share in this workshop are absolutly FREE. We also have lots of useful products to help people with Responsive Desire get in the mood, so you can use this gift card to get started! 
What People are Saying
"I feel so much more confident now. Learning that I don't need to feel guilty for saying no has helped me feel safer saying yes to physical intimacy with my partner." - anonymous participant
"Understanding what I really need and communicating that to my partner using Shauna's tips has opened up a whole new world to me."  - anonymous participant
How it works:
Upon checkout, you will be given access to the YES, PLEASE workshop, journal prompts, and partner guide. You will work through these on your own time and at your own pace.
Your $25 Gift Card will be emailed to you within two business days. Be sure to check your SPAM folder if you don't see it!
So, if saying YES, PLEASE to more intimacy, connection and pleasure sounds like something you want in your life, go ahead and add to cart.
*PLEASE NOTE: Pressure and shame have no place in pleasure. If you're not truly wanting more physical intimacy, for any reason at all, please honor your feelings. This workshop may not be for you at this time, and that's okay.
---
Share this Product
---