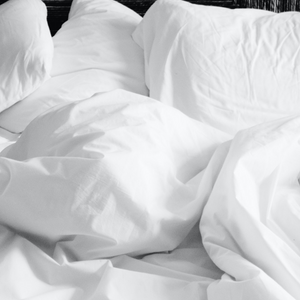 Taking care of your health doesn't have to be all kale or keto. Simply snuggling up with someone you love (yes, pets count too), can improve your overall health and well-being.  And, let's be real, sometimes we want to connect with our partner but we're just too dang tired. The beauty of snuggling is it takes very little effort, but makes a big difference in our personal well-being and in our relationships. Here are five quick reasons to slow down and snuggle up: 1. Snuggles lower stressA good cuddle sesh can release serotonin, the "happy hormone" and lower cortisol levels to...
---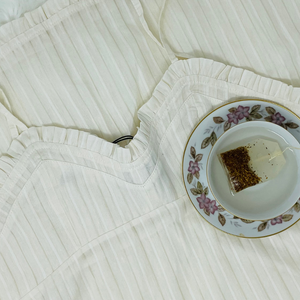 Dearest Reader,If you are mourning the heartbreaking loss of the Duke of Hastings - as we must - might we offer you a bit of comfort? As you tune into Season 2 of Bridgerton, eager for stories of infatuation, scandals and empire building, we invite you to adorn yourself in romantic gowns so pretty, you'll feel right at home with the ladies of high society.We are pleased to introduce you to our newest arrival, the Jasmine Collection. With elegant flowing lines and ruffle detailing, this no-fuss cotton/linen collection delights even the dreamiest of dreamers. The luxurious Jasmine Slip Dress and Jasmine Robe...
---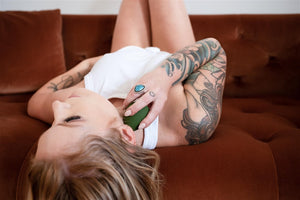 Welcome to 2022! As we continue to celebrate Self Love Month, we are dialing in on sexual wellness as a way to show ourselves a little love. We consider this one of life's simple pleasures and one way to experience deeper intimacy - with ourselves and with others.  Sexual wellness is a state of physical, emotional, mental and social well-being in relation to sexuality. Sex that's enjoyable, comfortable and healthy can benefit our lives by reducing stress and anxiety, boosting our immune system, helping us sleep, allowing us to feel more connected, and enjoying more body positivity.  If this sounds...
---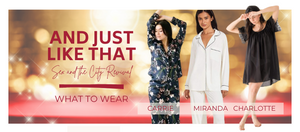 Are you as excited about the revival of Sex and the City as we are? If you're trading Hallmark for HBO on Dec. 9th, then keep on reading. Watch the revival in style. We've compiled some iconic looks to celebrate and honor your favorite characters.  Swing by the Pop-Up Stocking Stuffer Bar to grab your paparazzi-worthy Watch Outfit, or shop now.  CARRIE - Sexy and lighthearted While Carrie's love life may be on again off again, her commitment to high-quality fashion is always on. These floral silk pajamas by Salua Lingerie would fit right in with Carrie's stylish closet. Perfect for sipping cocktails at home...